Earlier this month, APISWA participated in a multi-stakeholder dialogue co-organized by the Cambodian Safety Solution Organization (CAMSAFE) and the Asian Vision Institute (AVI) in Phnom Penh to explore the adoption of a Legal Purchase Age (LPA) in Cambodia. The successful session was well-attended by representatives from the public and private sector.
There was a strong consensus that Cambodia needs an LPA and a clear opportunity for all stakeholders to work towards shared solutions to tackle youth drinking. APISWA members are strictly against youth drinking in Cambodia and support the government's intention to adopt an LPA at 18 years old.
As a responsible industry, we have a role to play in contributing towards reducing the harmful use of alcohol and changing harmful consumption behaviours, acknowledging the value a whole-of-society approach can bring in this regard. APISWA also took the opportunity to showcase some of the work the industry has done in Cambodia to tackle harmful drinking and drink driving amongst youth, with the publication of a dedicated report on our efforts to reduce alcohol-related harm. The report can be viewed below.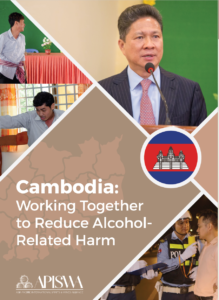 The dialogue session received positive media coverage in the local news: