APISWA Commits to Support Cambodian Government Efforts to Protect Youths Under 18 Years from Accessing Alcoholic Beverages
APISWA, together with 9 other signatories representing alcoholic beverage producers, distributors, retailers, as well as the hospitality and F&B sector in Cambodia, have committed to protect people under 18 years old from accessing alcoholic beverages and more broadly to prevent harmful drinking during the recent US-ABC mission in Cambodia on 28 February 2023.
The Signatories remain united in our desire to participate in a responsible and compliant manner in the supply, sale and advertising of alcoholic beverages in Cambodia.  Cambodia remains one of the few countries in the world without a minimum Legal Purchase Age (LPA). As a global industry and across regions, we pro-actively join forces to take concrete, and collective steps to prevent under-age drinking, combat harmful drinking, and advocate for moderate consumption of our products, for those who choose to drink.
We welcome the announcement made by H.E. Senior Minister Sun Chanthol, Ministry of Public Works and Transport, on the government's intention to set a legal minimum age limit for alcohol consumption in May 2022. We further support the consensus reached on the need for an LPA in Cambodia during a multi-stakeholder dialogue attended by public and private sector representatives in January 2023.
The introduction of an LPA provides important guidance when it comes to the supply, sale and advertising of alcohol. Specifically, an LPA sets a formal threshold at which the consumption of alcohol is deemed appropriate in a particular society and providing a legally enforceable tool in preventing alcohol access by those under a certain age. More broadly, it supports efforts to address harmful use of alcohol, specifically, youth drinking and drink driving among youth in Cambodia.
We support the adoption of an LPA set at 18 years old, which is consistent with most jurisdictions in the region and globally. We stand ready to support and work with the responsible line ministries and civil society to realize this important regulation.
As a responsible industry, we have a role to play in contributing towards reducing the harmful use of alcohol and changing harmful consumption behaviours, acknowledging the value a whole-of-society approach can bring in this regard. Specifically, we stand ready to support in raising awareness around an LPA with the general population and ensuring those serving or selling alcoholic beverages are trained to identify and deny service to underage who attempt alcohol purchases.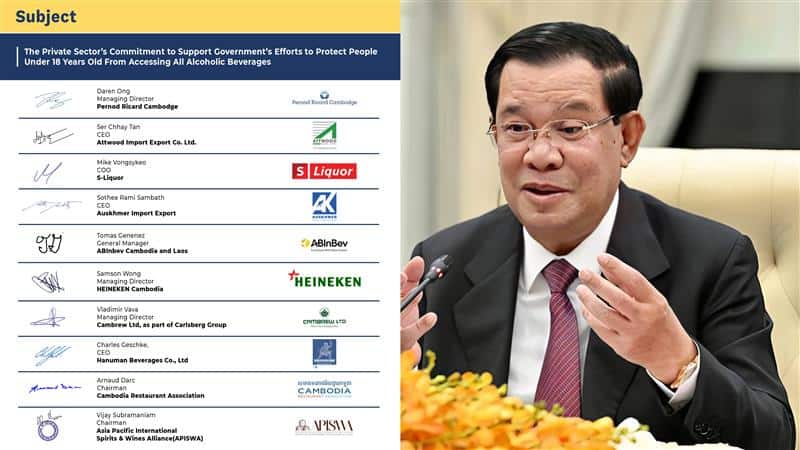 "The introduction of an LPA provides important guidance when it comes to the supply, sale and advertising of alcohol.
Key quotes and signatories
"APISWA members are committed to reducing harmful use of alcohol and supporting international goals towards eliminating the marketing, advertising, and sale of alcohol products to minors as part of a whole-of-society approach. We welcome the introduction of a Legal Purchase Age (LPA) at 18 years old in Cambodia as an important mechanism to protect Cambodia's youth from accessing alcohol. We stand ready to support the government in realizing this goal by sharing international best practice and supporting implementation efforts on-the-ground," said Vijay Subramaniam, Chairman of the Asia Pacific International Spirits & Wines Alliance (APISWA)
"Pernod Ricard Cambodge are fully committed to support the introduction of an LPA in Cambodia and will continue to walk our talk by being part of the industry's next movements on the topic as for us, nothing is more important than to collectively protect the youth's health including preventing the underage from consuming alcohol", shared Mr. Daren Ong – Managing Director, Pernod Ricard Cambodge
"Attwood strongly support the alcohol LPA age of 18. Allowing individuals aged 18 or over to purchase alcohol responsibly encourages them to make well-informed decisions, while still emphasizing the importance of moderation in consumption. This age limit also serves to reduce alcohol-related crime and disorder. Ultimately, setting an age limit for legal alcohol purchasing helps to protect individuals and the community at large." shared Mr. Ser Chhay Tan, CEO of Attwood Import Export Co. Ltd.
"S-Liquor are fully committed and supportive for the introduction of an LPA of 18+ in Cambodia.  As the frontline to our consumers, we would take the LPA very seriously and want to make sure that we only sell alcohol to our consumers of the proper legal age (18+). I.D. would be required if our consumers look under 18 and this would be enforced both in our retail stores and deliveries. Nothing is more important to us then the future health of our next generation and preventing minors consuming alcohol underage.", shared Mr. Mike Vongsykeo – COO of S-Liquor
"Auskhmer as one of the main F&B importer and distributor for over 20 years in Cambodia strongly support the alcohol LPA age of 18. As part of our mission we encourage and would like to educate consumers aged 18 or over to purchase alcohol responsibly. By setting an age limit for alcohol consumption individuals will have a better understanding of the harmful effects and impact on public health and safety. This will put a first brick to what remains to be done for the Cambodian consumers and educate them how to drink moderately." Mr. Sothea Rami Sambath, CEO of Auskhmer Import Export
"ABInBev is committed and supportive on the introduction of an LPA as we have supported across the world. Consumers are at the center of our business and it's our responsibility to ensure that their safety is our top priority. Establishing an LPA in Cambodia brings the industry one step closer towards this goal as it provides consumers protection when it comes to the supply, sale and advertising of alcohol.", shared Mr. Tomas Genenez – General Manager, ABInbev Cambodia and Laos
"Everywhere we operate, the promotion of moderation, responsible consumption and the prevention of harmful use of alcohol form an integral part of our encompassing strategy. An LPA plays herein a very important role and is fully in line with our own Responsible Marketing Code we have set for ourselves. I am pleased with the wide support of the industry and look forward to continuing the dialogue to promote the responsible consumption of our products in Cambodia.", Mr. Samson Wong – Managing Director HEINEKEN Cambodia
"Cambrew stands ready to support the Royal Government in setting a minimum LPA. As a company, we are committed to promoting Responsible Drinking through our Environmental, Social, and Governance (ESG) program. As part of our program, we will include the legal drinking age on the label of all our alcoholic products before the end of 2024. Furthermore, we will run responsible drinking campaigns  internally and externally to promote responsible drinking awareness and alcohol awareness, partnering with public and private stakeholders, and continue collaborating with other partnerships as our key approach.", shared Mr. Vladimir Vava, Managing Director – Cambrew Ltd, as the part of Carlsberg Group
"Hanuman Beverages is committed to the development of Cambodia. Setting international standards within our industry for consumption and responsible promotion of alcohol is critical to this development. We are ready to stand with and support the Royal Government of Cambodia in implementing these standards and beginning with an LPA of 18 years old is a major step forward in implementing responsible consumption of alcohol in Cambodia" said Charles Geschke, CEO, Hanuman Beverages Co., Ltd
"Cambodia Restaurant Association support setting up the legal age of 18 to purchase alcohol. We believe it is important to establish an age that represents a milestone in maturity and responsibility, which 18 typically represents. This is because it is important to distinguish between children and adults when it comes to alcohol consumption, as children who drink alcohol place themselves at higher risk of various hazardous situations, such as alcohol poisoning, drunk driving, and other serious problems. Additionally, by setting the age of 18, the government will be able to control alcohol use, as 18 year-olds are not typically able to purchase alcohol without assistance from an adult.", shared Mr. Arnaud Darc – Chairman of Cambodia Restaurant Association
Media Articles